If you are like us and stay at home often, you may have recently gained a much-deserved respect for culinary arts. We love the satisfaction of experimenting in the kitchen, regardless of the results. This newfound interest may have led you to the realization that your pantry is – shall we say, unsuitable for storage? Cluttered? Just way too crowded? Whatever moniker you choose to give it, take a look at these simple ideas to maximize the space you have without breaking the bank.
1. Lazy Susans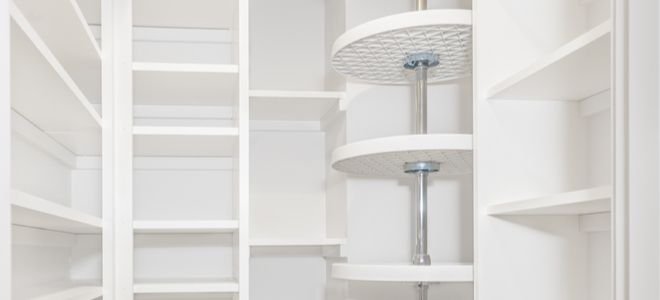 We do not know who Susan was, or what made her so lazy (although a quick internet search may reveal the answer, so please, feel free to let us know), but we love this handy little turntable that makes it easier to access items in it uncomfortable corner cabinet where pots and pans can die. The lazy Susan is a multi-tasker who can also do wonders in your spice cabinet (after throwing out all the old spices, of course), and even under your sink. Susan, whoever you are, thank you for helping us advance our goal of achieving domestic happiness.
2. Baskets
Raise your hand if you have at least one basket in each room of your house. Okay, that may be a little exaggerated, but we're definitely big fans of them. They are attractive, inexpensive and make storage a small part. Use them to arrange your shelves, counters and cabinets. Group similar items in them, or fill them with just one type so that you do not have to do an exhaustive search for what you think you bought the day before.
Use vertical spaces
Do you know that space above the cabinets? Do a deep cleaning and remove the dust from the tops so that you can regain that space. Do you remember the baskets we mentioned? They are light enough to be placed and come in a variety of natural shades and colors. You also do not need to hold on to the basket. Find some wire baskets that complement the elegant modern kitchen. To keep things looking good, keep the baskets uniform in shape – unless you want something more eclectic, in which case, go completely out. The only vertical space we warn you to stay away from is the refrigerator. For some reason, the storage on top of the fridge just looks messy.
4. Over the door shelves
These shelves can be easily mounted and give you a fantastic amount of storage in a place that would otherwise go unused. Tip: Measure carefully. You do not want to go to the trouble of putting it together just to realize that it encounters some current shelves that are already in the pantry.
5. Maximize unused corners
If you are converting a closet into a pantry, you have so many options when it comes to shelves. The dusty corners that once stored mops and brooms can accommodate elegant shelves for extra space and better access to the new stove.
Use hooks to hang
Oven washers, warm pan holders and towels do not need to take up valuable space in a drawer. Install hooks near your cooking area for easy access to them.
7. Add drawers to deep cabinets
When you first moved in, you fell in love with these deep cabinets. After a few months, the practical side of you realized how awkward they really are. Fortunately, someone else felt the same way and came up with the pull-out drawers that allow you to reach the road in the back without having to reach the road in the back.
8. Pegboard is back
Not because it ever went out of style. We were just more used to seeing it in the garage. That does not mean it can not be found elsewhere. They are a good alternative to stacking pots and pans in a cupboard. No more loud mixing through the cabinet for a pan when you want to make a midnight grilled cheese. Now you do not wake up the rest of the house. But even if the sound does not wake them up, your gourmet ability at the stove can attract a sleeping stomach. We suggest installing an air head to keep your midnight snack attacks private.
9. Replace the shoe organizer
Yes, that's exactly what we mean. It does not have to be strict for shoes. Spices can also find a home in it. Or large tools. Or glass jars. Or whatever you can fit into that space. Who says you have to follow the rules?
It does not have to be difficult or expensive to take back a certain order in your pantry. A little imagination and creativity goes a long way.